CASE STUDY ONE
EPA INDOOR AIR QUALITY TOOLS FOR SCHOOLS MARKETING KIT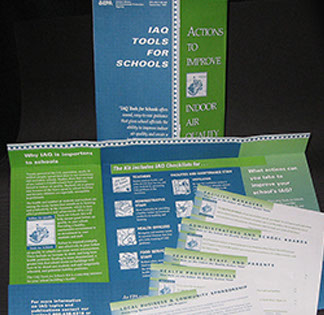 Harris Design was hired to create a promotional piece for EPA's Indoor Air Division that would be useful to a number of different groups in educating target audience(s) about the ways to control or alleviate indoor air problems in schools. This piece was also used to promote an Indoor Air Quality "tool kit" provided free to schools.
Our solution was to create a promotional piece that fulfilled several functions:
• As a folder with targeted inserts, it connected to different employees within the school structure: school principals, teachers, facilities managers, school health officials, food service, maintenance and waste management personnel.
• As a total package, it served as a comprehensive resource for parents and school fundraisers looking for corporate support.
• Opened flat, it is a mountable poster providing quick access to information for building managers.
• The included Response Card is a usable tool for obtaining the multi-part Tool Kit.
The package was extremely successful in educating all the intended audiences across multiple markets and created a sophisticated, yet strategically straightforward overall look for the program.
© HARRIS DESIGN INCORPORATED | 1918 FRANKLIN AVENUE | MCLEAN VIRGINIA, 22101 | 703-237-8277